The Of Corset Philosophy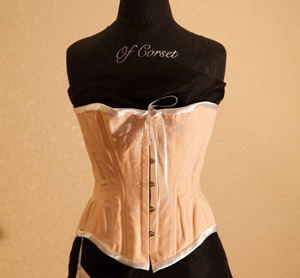 Corsets are an essential element in a wide range of styles both historic and modern. Without the structural support of a perfectly fit corset, Victorian dresses just don't have the grace and elegance we admire, no matter how lovely the fabric or impeccable the workmanship.
In order to truly enhance the Victorian dress a corset must meet several criteria. First and foremost it must fit properly. The wearer must be able to both move and sit comfortably. An ill fitting or uncomfortable corset will simply ruin the experience and the look. Of Corset only sells to those who are personally fit in the store using actual corsets.
A corset is also a significant wardrobe investment – quality materials and meticulous workmanship will guarantee that your 'Of Corset' will be a valuable asset to your wardrobe.
Corsets, and all private clothing, should be pretty – and suited to your individual taste and style. A little lace, embroidery, a touch of satin, ribbon, or even a monogram adds a secret touch of glamour or whimsy. Each 'Of Corset' is not only personally fit, but individually designed with each client. Fabric, trim and embroidery choices are limited only by the imagination and what is available — not what is in stock.
All 'Of Corsets' are fully lined with white Jacquard coutil  In my opinion this is the most comfortable, durable and best looking. Dark cottons may or may not be truly colorfast.
Coutil and linings are all pre-washed so the completed corset can be hand washed, corsets with silk or other fashion fabric shells will need to be professionally dry cleaned.